Feature Screenplay by H.W. Freedman ©Copyright 2017 by the Author
Based on the author's stage play of the same name.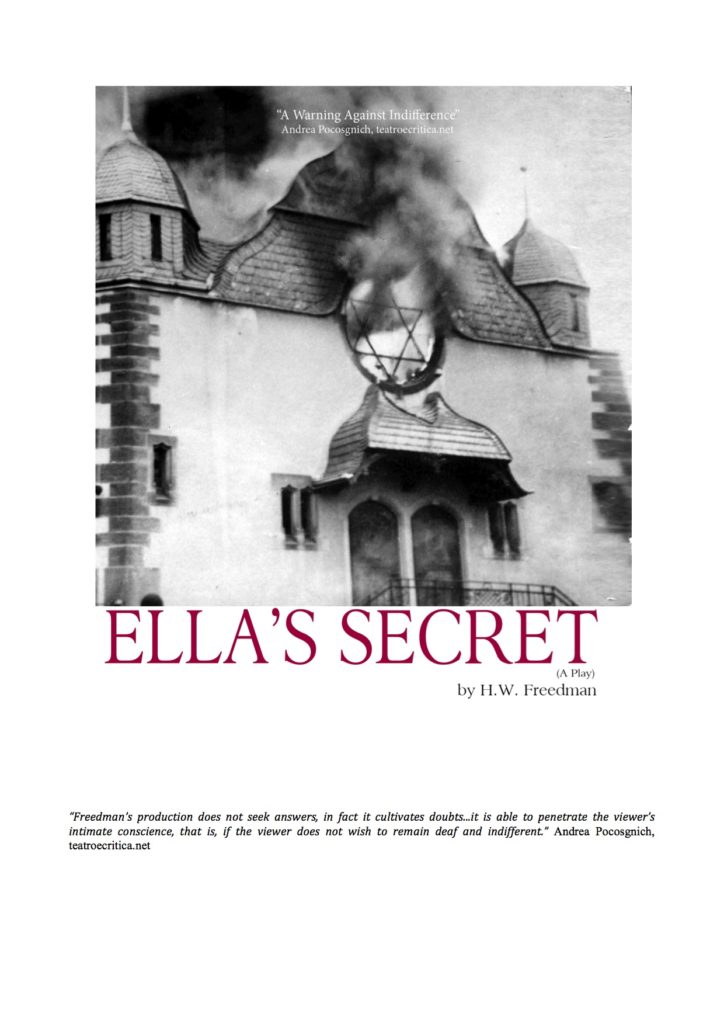 Logline: On a quiet Sunday morning, Ella receives an unexpected visit from Helga, a woman she has never met before. Both their lives have been affected by the same Nazi-SS officer. Helga has a mission, and Ella has a secret.
Genre
Drama, Historical
Cast Breakdown
Ella and Helga both in their mid-50s have the only speaking roles.
Time
1980
Location
London

Ella's apartment, where the only two speaking roles will take place,
and a few brief scenes on the street in front of Ella's house.
Cover photo courtesy of Yad Vashem
Cover layout by Anthony McEwan a/k/a Rugman
Most recently, the stage play was successfully presented in London in 2015 at the Baron's Court Theatre.  In both 2012 and 2013 the play was presented in Italy, in Italian, in Rome, and at the Spoleto La Mama Fringe Festival to critical acclaim, under the direction of Harris Freedman
ELLA'S SECRET was staged for the first time in Seattle in 1998 at the Ethnic Cultural Centre Theatre, University Washington, directed by Harris Freedman.
The performances in Seattle were co-sponsored by The International Conference on the Holocaust and the Churches, the Ethnic Cultural Centre of the University of Washington and Yad Vashem. Among those attending the performances were representatives of Simon Wiesenthal Centre, and Goethe House. This was an inter-faith and inter-ethnic event. We mounted the play at the invitation of the Chairman of the Conference who was an African-American Clergyman and Professor at the University and one of the founders of the organization. One of the performances was also sponsored by The Social Justice Committee of the Christian Church (Disciples of Christ), Northwest Region for an audience of Christian high school students, and Harris Freedman lead an informal discussion of the play with them after the performance.