Screenplay by H.W. Freedman ©Copyright 1989 & 2021 by the Author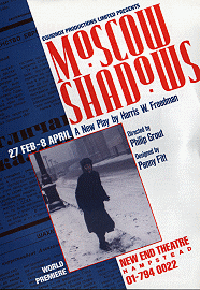 Logline: Moscow in 1989.  Two widows of the Soviet system have been close friends and neighbours for more than 40 years.  Anna remains an idealist and Natasha is a blackmarketeer, selling ikons for dollars, which is a capital offence. Their neighbour is murdered and the ensuing police investigation brings unexpected and tragic consequences.
Genre
Comedy, Tragedy
Cast Breakdown
3 women, 2 ages late 60s, 1 age 30.
3 men, 1 age 35, 1 age 19, 1 age 50
Time
1989
Location
Moscow, Russia
Based on the stage play by the same author.
What the Critics said about the London Stage Premiere:
"…behind the powdery rubble of the Berlin Wall is the infinitely bleaker edifice of East European anti-semitism…Harris Freedman addresses this in his new play, Moscow Shadows, but he does so by means of a drawing-room comedy that…goes for (and gets) the laugh to be found in a fond portrayal of Jewish matriarchy." The Independent, London
"…moves stylishly from politics, to drawing-room drama, to whoops-no-sex-I'm-a-Red farce, to whodunnit…." City Limits, London.
"The play's observations could not be more politically apposite…" Independent
"…Moscow Shadows is a rich mix, combining the loss of innocence, the all-pervading atmosphere of insecurity…the thrills and skills of black-marketeering, and a detective story." Jewish Chronicle, London.
"…two gutsy Jewish widows…fine performances…" Time Out, London.
"…The 'visa speech,'…is surely going to be a classic." Jewish Chronicle, London.
"…a play rich with humour as well as pathos,." What's On In London
"…multi-faceted drama, highlighting inherent fascism in Russia…" City Limits, London
"…effective comedy…" Ham & High, Hampstead, London.
"…a play to provoke heartfelt debate…" Ham & High, Hampstead, London.