Full-Length Play by H.W. Freedman ©Copyright 1989 by the Author

Also available in Italian.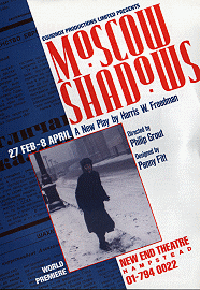 Synopsis: Moscow 1989, in the atmosphere of perestroika and glasnost. Two widows of the Soviet system have been close friends for over 40 years. Anna remains an idealist. Natasha is a black marketeer, selling ikons for dollars, which is a capital offense. Their neighbor is murdered and the ensuing police investigation brings unexpected and tragic consequences.
Genre
Comedy, Tragedy
Cast Breakdown
3 females (2 age late 60's; 1 age 30.)
2 males (1 age 30's; 1 age 45)
Time
1989
Place
Moscow
Setting
Anna's apartment in Moscow.
Production History
1990, New End Theatre, Hampstead London, directed by Philip Grout
Staged Reading
Roundabout Theatre, NYC, USA and the
East Hampton Playhouse, Long Island, NY, USA, directed by Gene Feist.
You can purchase this play here
I am pleased to report that in 2019 MOSCOW SHADOWS was the Winner of a Grant of Euros 42,900 ($50,000) from the Italian Government Agency Nuovo Imaie to present the Italian version of the play in a first class production in Rome Italy.
What the Critics said about the London Premier of Moscow Shadows
"…two gutsy Jewish widows…fine performances…" Time Out, London.
"…moves stylishly from politics, to drawing-room drama, to whoops-no-sex-I'm-a-Red farce, to whodunnit…police interrogation, remorse…self-sacrifice…" City Limits, London.
"…As the dust clears, discernible behind the powdery rubble of the Berlin Wall is the infinitely bleaker edifice of East European anti-semitism, invisible, all-pervasive, and atavistic in its strength. Harris Freedman addresses this in his new play, Moscow Shadows, but he does so by means of a drawing-room comedy that makes profoundly uneasy viewing…" Independent
"The play's observations could not be more politically apposite…" Independent
"…goes for (and gets) the laugh to be found in a fond portrayal of Jewish matriarchy."Independent
"…persuasive performances…" Independent
"The author has written splendidly meaty parts…fine and funny performances…a play rich with humour as well as pathos…" What's On In London
"…Moscow Shadows is a rich mix, combining the loss of innocence, the all-pervading atmosphere of insecurity…the thrills and skills of black-marketeering, and a detective story." Jewish Chronicle, London.
"…The 'visa speech,'…is surely going to be a classic." Jewish Chronicle, London.
"It is unusual to have a new play of such topicality arrive on the London Stage so immediately after the events it is recording." What's On In London
"…multi-faceted drama, highlighting inherent fascism in Russia…" City Limits, London.
"…bang up to date…effective comedy…a play to provoke heartfelt debate…" Ham & High, Hampstead, London