Full-Length Play by H.W. Freedman ©Copyright 1994 by the Author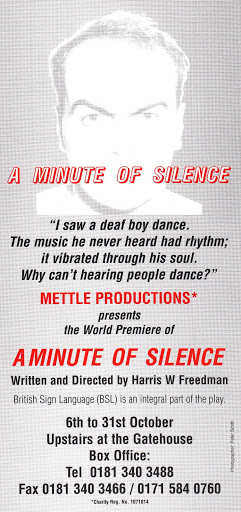 Synopsis: Dora is a psychologist. Barry is a university graduate who has chosen to spend his life in the circus making and repairing the performers' shoes. Barry's parents cannot accept his choice and employ Dora to rescue him. They do not tell her that Barry is deaf.
The love story between Barry and Dora, a hearing woman, unfolds through dialogue, physical theatre and sign language. Dora struggles to come to terms with her own problems whilst under the illusion that it is Barry who needs help. An ensemble of eight actors act out the story, have fun and mock the seriousness of the scenes.
A Minute of Silence offers the audience a rare glimpse of the world through the eyes of Barry, a deaf man. Barry's witty and playful approach to life challenges many of the hearing world's misconceptions about deafness.
| | |
| --- | --- |
| Genre | Comedy, Fantasy, Romantic comedy |
| Cast Breakdown | 4 male (2 deaf, 2 hearing), 4 female (1 deaf, 3 hearing) |
| Time | The Present |
| Place | Any Country in the World |
| Setting | Practice Circus Tent. |
| Production History | 1998 Upstairs at the Gatehouse, Highgate, London, directed by Harris Freedman |
You can now purchase a copy of A Minute of Silence – Here
A Minute Of Silence achieved Finalist status in the 2001 New Century Writers Awards and Semi-Finalist status in the 1998 Julie Harris Playwright Award Competition administered by the Beverly Hills Theatre Guild.
What the critics said about the London Premier:
"…enchanting A Minute of Silence…" The Stage
"..a play that challenges perceptions of deafness." Hampstead & Highgate
"…a surrealist drama which can be enjoyed on several levels. It is a touching love story, a piece of physical theatre, and a play that re-evaluates deafness and proclaims the right to choose one's way of life, however unconventional." Jewish Chronicle
"…remarkably eloquent.." Time Out
"…a magical, multi-layered piece…" The Stage
"…spectacular visual impact…" Camden New Journal
"With this funny and challenging piece, Freedman certainly achieves his prime intention – to turn the common perception of disability upon its head." Disability Times
"…a night that was not only entertaining but also saw theatrical technique pushed several notches on." The Stage
"The current rage over genetic engineering and the probable impact on both the deaf and disability communities made the play even more topical." Disability Arts in London – DAIL
"Writer/director Harris Freedman's imaginative production sews speaking and signing players into the same costume by linking everything with a gleefully manic comedia dell'arte touch. . ." Hampstead & Highgate
"At each twist and turn we are presented with yet another issue – mercilessly the writer ensures that none of us escapes his questioning." Disability Times
"…a poignant comedy…"Jewish Chronicle